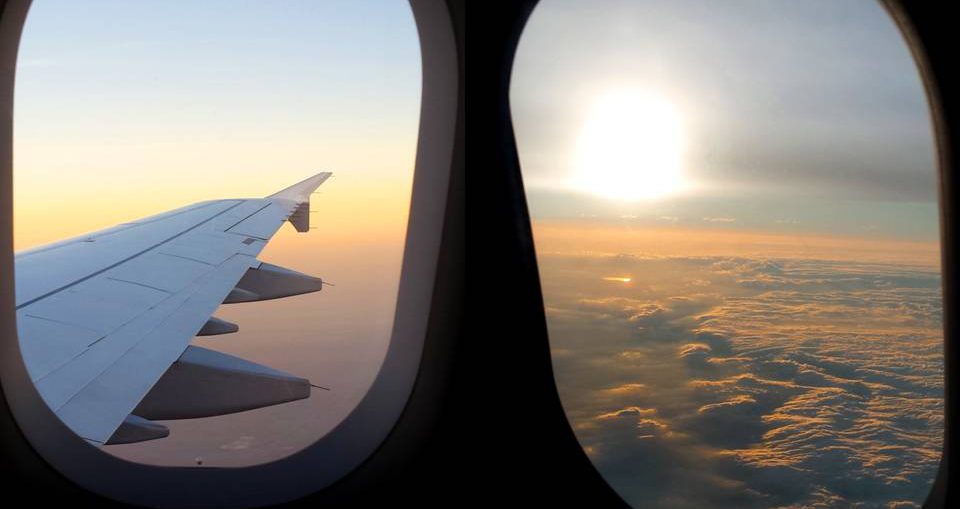 30-11-2016
To co cenię sobie bardzo w podróżowaniu, poza zwiedzaniem nowych miejsc i poznawaniem kultur, to możliwość oderwania się od codziennej rzeczywistości i spojrzenie na życie z innej perspektywy. Dlatego uwielbiam latać samolotem, chociaż nie ukrywam, że towarzyszą temu niewielkie emocje. Kiedy już samolot wzbije się na oczekiwaną wysokość przelotową bardzo często możemy podziwiać za oknem piękne słońce i kłębiące się pod nami chmury, pomimo, że pod nimi panuje szaro-bura rzeczywistość. Taki lot zawsze nastraja mnie pozytywnie.
Z Warszawy do Bostonu niestety nie ma bezpośrednich połączeń wobec tego trzeba wybrać miasto, najlepiej europejskie, gdzie będziemy mieć transfer na dalszą podróż. Można zdecydować się na "przesiadkę" w Londynie, Amsterdamie, Frankfurcie, Zurichu, Monachium lub Paryżu. Ja wybrałam lot przez Frankfurt linią Lufthansa i muszę przyznać, że się nie zawiodłam. Mogę pochwalić przyjemną obsługę w samolotach i komfortowe warunki. Przyznam Wam szczerze, że pierwszy raz miałam okazję lecieć Boeingiem 747-8, czyli maszyną z dwupoziomowym pokładem, co w pierwszym momencie wzbudziło we mnie lekkie przerażenie… samolot jest ogromny.
Jak wiecie, Polacy muszą mieć jeszcze wizy do USA, stąd na lotniskach transferowych musimy się liczyć z dokładniejszą kontrolą i licznymi pytaniami o cel podróży i inne szczegóły. Jednak kiedy zrobicie odprawę dzień wcześniej przez internet i odpowiecie na kilka pytań kontrola na lotnisku przebiegnie dużo sprawniej. Nie zapominajcie jednak, że Wasza wiza w paszporcie to dopiero promesa, tę właściwą otrzymacie na lotnisku w Stanach od uprawnionego urzędnika. Zdarzają się niestety odmowy i deportacje, dlatego przygotujcie się wcześniej na rozmowę.
Lądując w Bostonie można podziwiać przepiękne widoki, krajobraz jest bardzo malowniczy, rzeki przeplatają się z zatokami i pięknymi leśnymi terenami, które szczególnie uroczo wyglądają jesienią. Z lotniska roztacza się cudowny widok na biznesową dzielnicę Bostonu, gdzie jak grzyby po deszczu wyrosły wieżowce.
Boston to jedno z moich ulubionych miast wschodniego wybrzeża Stanów Zjednoczonych, być może dlatego, że ma wiele elementów europejskich. W końcu to tutaj właśnie przybyli po raz pierwszy w 1620 roku pielgrzymi z Europy, aby osiedlić się na zamieszkałym przez Indian terytorium. Dlatego Boston uważany jest za kolebkę amerykańskiej cywilizacji, tutaj znajduje się najwięcej znanych amerykańskich uczelni wyższych.
Boston urzeka z jednej strony swoją nowoczesnością (głównie w dziedzinie finansów i nauki) a z drugiej wieloma aspektami kulturowości i historii.
W Bostonie, głównie w dzielnicy Dorchester mieszka wielu Polaków, można tutaj nabyć również polskie produkty. Przebywając podczas tej rodzinnej wizyty w stanie Massachussets obejrzałam Boston bardzo pobieżnie, ale więcej informacji możecie znaleźć z poprzednich podróży w poprzednich wpisach:
Boston – Miasto Maratonu / Boston – The City Of The Marathon
Najstarszy Park W USA / The Oldest Park In USA
Harvard – Najstarsza Uczelnia Wyższa W USA / Harvard – The Oldest University In The USA
Cape Cod I Plymouth – Początki Kolonizacji Ameryki Przez Europejczyków / The Beginnings Of The Colonization Of America By Europeans
Atrakcją tej wycieczki była niewątpliwie wystawa Da Vinci – The Genius w Museum of Science poświęcona Leonardo Da Vinci, z której relację możecie zobaczyć TUTAJ
Tekst: Gocha
Zdjęcia: Gocha