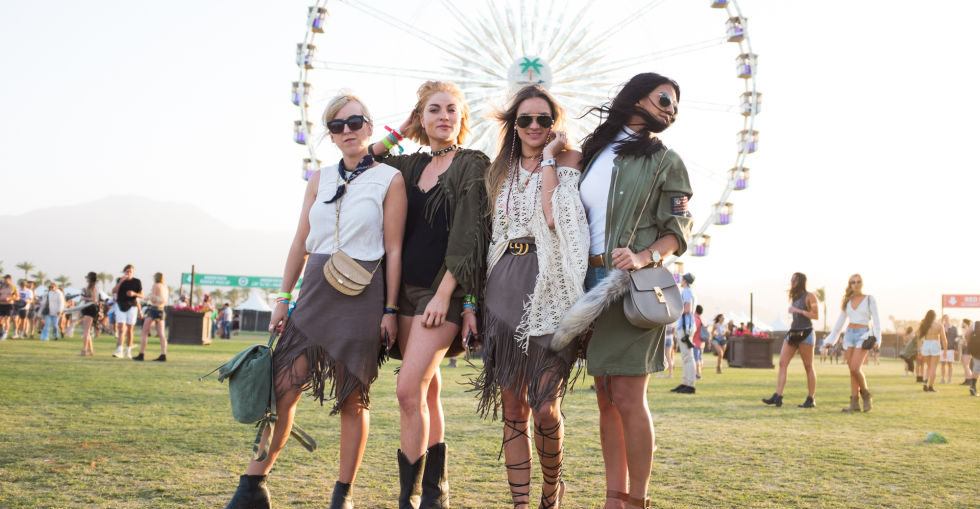 16-05-2016
Kwiecień i maj obfitują w światowe wydarzenia, związane z modą, filmem, muzyką i sztuką. Chciałabym Wam je nieco przybliżyć. Zaczniemy od Coachella Festival.
Festiwal Coachella to coroczne wydarzenie w Stanach Zjednoczonych, odbywające się w Dolinie Coachella na Pustyni Colorado. Oficjalna nazwa festiwalu to Coachella Valley Music and Arts Festival.
Festiwal odbywa się od 1999 roku, jego wizytówką są tacy artyści jak:  Pearl Jam, AC/DC, Amy Winehouse, Madonna, Paul McCartney, Red Hot Chilli Peppers, Jay-Z, Beastie Boys i wielu innych.
Aktualnie festiwal odbywa się w trzy następujące po sobie kwietniowe weekendy, każdy weekend ma identyczny line-up. Organizatorzy w 2003 roku zaczęli zezwalać na rozbijanie widzom namiotów, co było jednym z kilku rozszerzeń i udogodnień wprowadzonych na przestrzeni lat w historii wydarzenia.
Coachella to również festiwal mody, podczas tego wydarzenia możemy zobaczyć najbardziej znane twarze show businessu w zupełnie nowej odsłonie, w  letnim stylu nawiązującym do lat 60-tych, z elementami kowbojskimi i country, właściwie wszystkie style są tutaj dozwolone.
Coachella jest jednym z najbardziej znanych i opłacalnych muzycznych festiwali w Stanach Zjednoczonych. Na festiwal w 2015 roku sprzedano 198 tys. biletów, co dało przychód o kwocie 84.3 milionów dolarów, co stanowi światowy rekord.
Obejrzyjcie kilka zdjęć z instagrama z ostatniego festiwalu…
Propozycje w stylu Coachella: