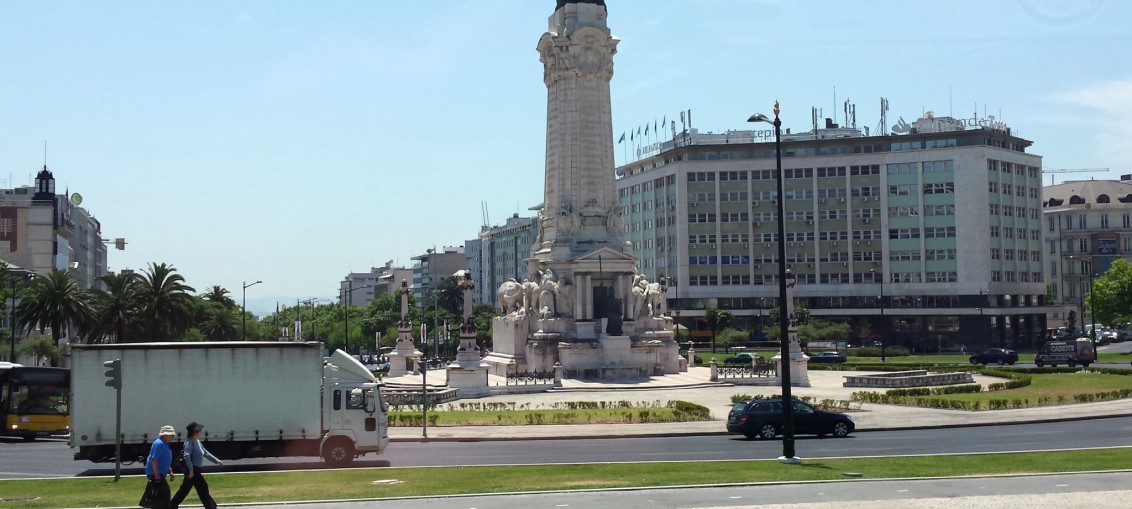 2015-07-07
Podczas ostatniej podróży miałam okazję odwiedzić Lizbonę. Lizbona to miasto fascynujące, gdzie każdy zakątek przypomina o bogatej przeszłości podbojów kolonialnych i wypraw morskich. Pierwsze wrażenie widoku przedmieścia  nie robi dobrego wrażenia, jednak im bardziej je poznajemy wzrasta apetyt na dłuższy pobyt.
Lizbona jest stolicą Portugalii i miastem najbardziej rozwiniętym ekonomicznie i kulturalnie  w kraju. Miasto położone jest nad rzeką Tag w pobliżu ujścia do Oceanu Atlantyckiego. Aktualnie na rzece Tag znajduje się jeden z najdłuższych mostów na świecie, jego długość to 2278 m.
To właśnie z Lizbony, w okresie odkryć geograficznych (XV – XVII w.) a dokładnie z portu Belem, wyruszyło wiele wypraw morskich, które przyczyniły się do rozwoju królestwa i jego stolicy.
W Lizbonie w Klasztorze Hieronimitów znajduje się grobowiec Vasco da Gamy, to w Lizbonie możecie obejrzeć Pomnik Odkrywców, znajdujący się w dzielnicy portowej.
W Belem warto również zajrzeć do słynnej cukierni Pasteis de Belem na wyśmienite babeczki pastel de Nata. W cukierni, znajdującej się obok Klasztoru Hieronimitów ciasteczka te produkuje się od 1837 r. a ich receptura jest pilnie strzeżona do tego stopnia, że zatrudnieni cukiernicy, poza tym, że nie mogą używać używek, muszą być wyjątkowo małomówni.
Stare miasto Lizbony zachwyca pięknymi, starymi fasadami, które nie są remontowane, aby zachować ich dawny klimat, remontuje się tylko wnętrza kamienic.
Nad miastem w maju i czerwcu unosi się charakterystyczny zapach kwitnących na fioletowo drzew – to jacaranda.
Wieczorem Lizbona zachwyca jeszcze bardziej, oświetlone budynki, kameralne uliczki ze stolikami restauracyjnymi na zewnątrz zachęcają do delektowania się świeżymi owocami morza i wspaniałym portugalskim winem. Polecam restaurację Sol Dourado przy Rua Jardim do Regedor  tuż obok Placu Restauradores – wspaniała obsługa i fantastyczne krewetki królewskie i sardynki.
Najsłynniejsze miejsca spotkań zarówno mieszkańców jak również turystów to Plac Rossio oraz Plac Restauradores (nazwany tak dla upamiętnienia tych, którzy oddali życie podczas wojny o restaurację monarchii portugalskiej).
W Lisbonie można się przemieszczać metrem, tramwajem lub autobusem, jednak zanim wejdziecie na stację metra warto dokładnie sprawdzić mapę i dopytać o dojazd i bilety, gdyż oznakowanie metra jest bardzo słabe.
Tekst: Gocha
Zdjęcia: Gocha
Źródło informacji: Wikipedia, własne
Zobacz również:
Madera – wiecznie zielona wyspa
Klasztor Hieronimitów w Lisbonie
Teneryfa – Wyspy Kanaryjskie, wyspy szczęśliwe