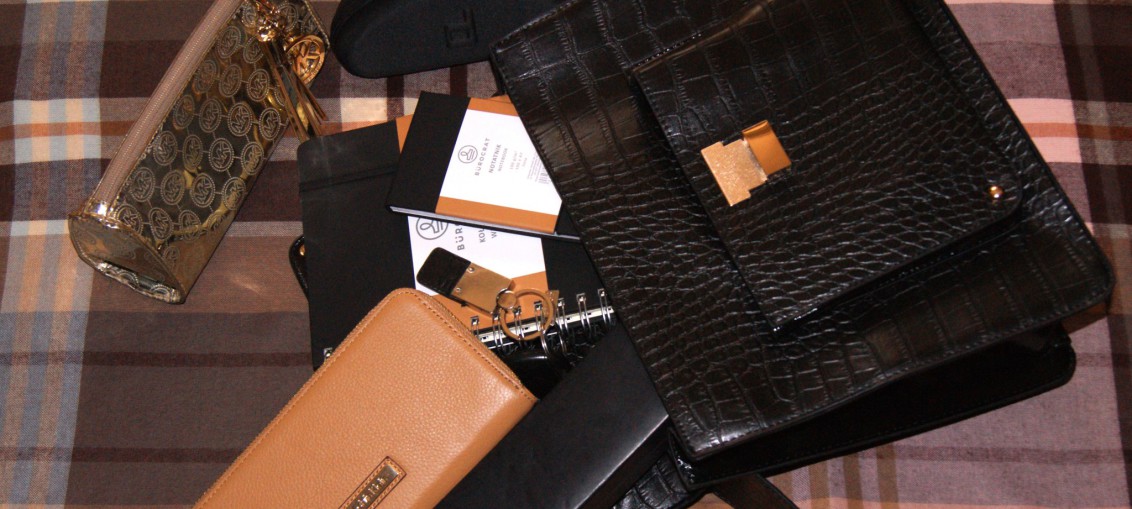 2014-10-12
Damska torebka, ach! To jeden z najbardziej pożądanych (poza butami) element damskiej garderoby. Dziś, kiedy kobietom już nie wystarczy tylko pachnieć u boku mężczyzny, torebka spełnia ogromną, niezastąpioną rolę praktyczną i estetyczną. Nie wiem jak Wy, ale ja sobie nie wyobrażam życia bez torebki, czy to biznesowej, codziennej, wieczorowej, turystycznej, plażowej, czy chociażby plecaka.
Życie sprawiło, że otaczamy się przedmiotami, które są niezbędne, trzeba je więc umieścić w miejscu praktycznym, wygodnym a jednocześnie dodającym nam uroku. Takie gadżety jak telefon komórkowy, portfel, notes czy prozaiczne chusteczki do nosa muszą znaleźć swoje miejsce.
Każda kobieta dopasuje do swoich potrzeb odpowiednią torebkę według swoich potrzeb. Dzisiaj chciałam Wam pokazać co można ukryć w torebce biznesowej, kiedy spędzamy prawie cały dzień w biurze i na spotkaniach, zabiegane, ale dbające o siebie.
Kosmetyczka Michael Kors, mini zestaw Estee Lauder, puder matujący Isa Dora, szminki Estee Lauder, błyszczyk i eyeliner Loreal, woda toaletowa Burberry Brit, Vogue do poczytania w przerwach na kawę.
Tekst i zdjęcia: Gocha
ZOBACZ RÓWNIEŻ / SEE ALSO:
Najmodniejsze Torebki Ostatnich Miesięcy / Fashionable Handbags Last Months
Urok Businesswoman / The Charm Of Businesswoman
Co Czeka Największe Amerykańskie Marki? / What Will Happen With The Biggest American Brands?