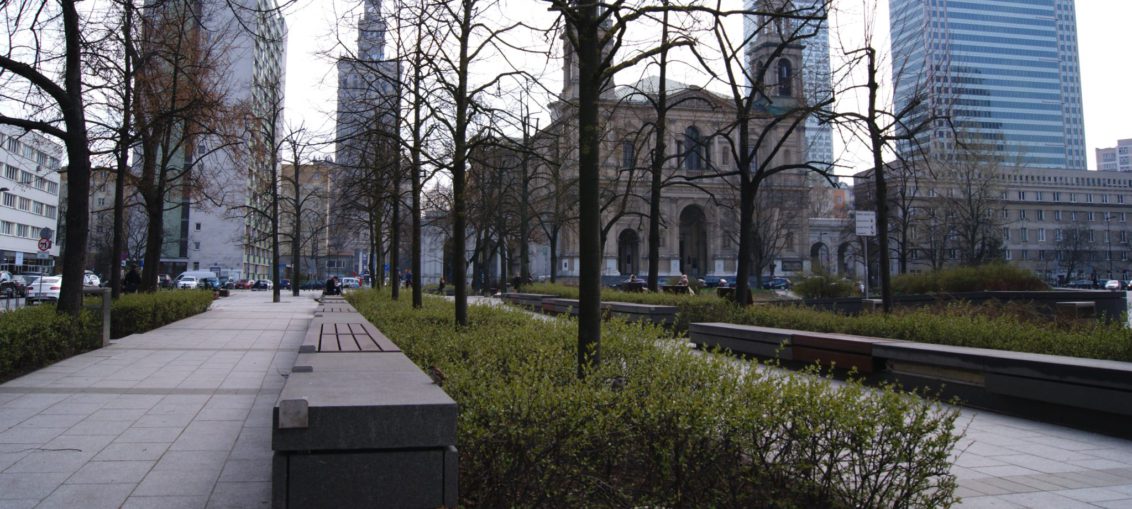 07-04-2017
Pochłonięci codziennymi obowiązkami przemierzamy tysiące kilometrów zmierzając z punktu A do punktu B. Skupieni na zadaniach, skoncentrowani na pracy, ciągle w biegu, odpoczywamy wtedy, kiedy wyjedziemy za miasto lub za granicę. Zachwycamy się pięknymi miastami, metropoliami i miasteczkami z historią, nie doceniając naszej stolicy. Tymczasem, kiedy spojrzymy na nią z innej perspektywy, nieco zwolnionej, spacerując po jej ulicach jak turyści możemy poczuć, że tutaj wcale nie jest gorzej, że nawet jest ciekawie, czysto i ładnie.
Znalazłam chwilę w kwietniowe popołudnie, aby nieśpiesznie pospacerować w okolicy ulicy Grzybowskiej i Placu Grzybowskiego w Warszawie. Powiem Wam szczerze, że się zachwyciłam. Zobaczyłam niewielki skwer, jeszcze nie zupełnie zielony, otoczony na przemian odrestaurowanymi kamienicami  i budynkami powojennymi. Spacerując po skwerku nie sposób ominąć wzrokiem Kościoła Wszystkich Świętych, znad którego wyrastają warszawskie wieżowce.
Dookoła placu powstało mnóstwo restauracji, barów bistro i kawiarni, zdecydowanie czuć tutaj klimat centrum Warszawy, to miasto żyje.  Przechodząc dalej w stronę ulicy Emilii Plater wyłania nam się Pałac Kultury i Nauki, pozostałość po socjalizmie, chociaż szczerze, nie wyobrażam sobie bez niego Warszawy.  Nowoczesne wieżowce w okolicy zostały zaprojektowane przez wybitnych architektów, w każdym  z nich na dole można skorzystać z przyjemnych, nowoczesnych kafejek.
Idąc dalej w lewo mijamy apartamentowiec Cosmopolitan z nowoczesnym Patio Cosmopolitan. Główną atrakcją nowej przestrzeni jest znajdująca się w centralnej części placu ruchoma rzeźba Erana Shakine'a, którego prace są wystawiane między innymi w British Museum i innych prestiżowych muzeach i galeriach.
Warszawska praca Erana przedstawia rodzaj huśtawki bądź równoważni. Na dwóch końcach poziomej belki ustawione są zwrócone do siebie dwie sylwetki: kobieta i mężczyzna. Wraz z ruchem belki zmienia się ich wzajemna pozycja, co symbolizuje dynamikę i nieprzerwaną zmienność ludzkich relacji. Rzeźba "You and Me" jest wysoka na 8 metrów. Pełen cykl ruchu rzeźby zajmuje osiem godzin.
Do Warszawy przyjechałam na studia i tak już zostało, obserwuję to miasto od wielu lat, jak się zmienia, jak dojrzewa (lub raczej się odmładza). Chociaż jestem naszą stolicą często znużona, stojąc w koszmarnych korkach, czy próbując znaleźć miejsce do zaparkowania to jednak czuję, że to moje miasto…
Tekst: Gocha
Photos: Gocha
Zobacz również / See also:
Drapacze Chmur W Warszawie / The Skyscrapers In Warsaw
Izabela Grabowska-Rzempała Opowiada O Kreowaniu Swojego Wizerunku W Świecie Finansów / Izabela Grabowska-Rzempała Expresses Her View On The Creation Of Her Image In The Financial World
Kuchnie Świata W Warszawie / Cuisines Of The World In Warsaw