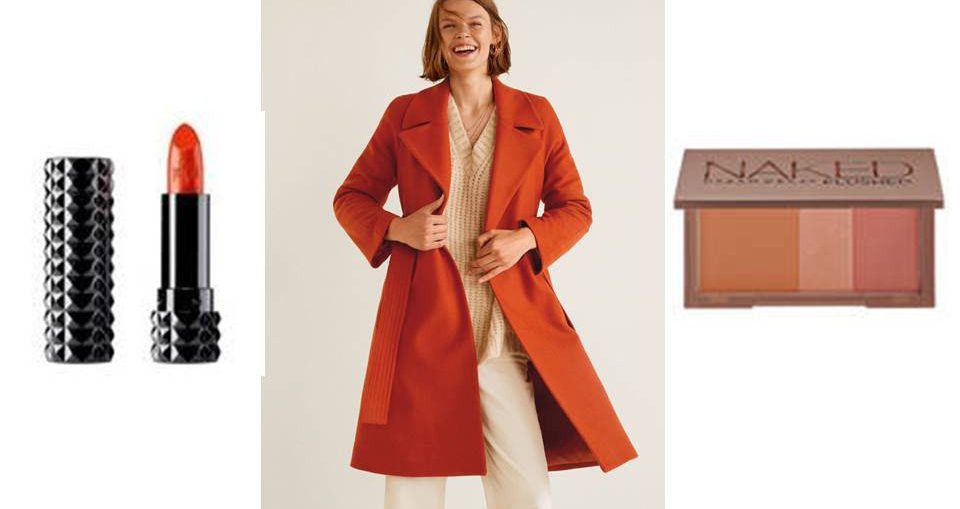 30-10-2018
Kto z Was był już w tym roku na farmie dyni? Kolory dyni to zarazem kolory jesieni, kolory spadających liści i coraz bardziej szarego krajobrazu za oknem. W tym duchu przygotowałam dla Was zestaw na jesienne dni, połączenie pomarańczowego płaszcza z miedzianą plisowaną spódnicą z nieco bardziej nostalgicznymi szarymi dodatkami: czapką z pomponem, szarymi botkami i dodającym światła białym swetrem.
Dlaczego tak bardzo boimy się kolorów w pochmurne dni? Ostatnio na ulicach miasta widziałam ludzi ubranych niemalże od stóp do głów w czarne i ciemnoszare ubrania. Rozumiem, że są one praktyczne, ale czy nie czulibyśmy się lepiej i weselej, gdyby otaczały nas jesienią kolory? Czy nie mniej byłoby depresyjnych nastrojów gdyby szare ulice wypełnili kolorowo ubrani ludzie?
Szminka w kolorze dyni i muśnięcie policzków morelowym różem dopełni stylizację i doda Wam energii i odwagi. Postawcie tej jesieni na kolory dyni: pomarańczowy, żółty, zielony, miedziany, złoty. Poczujecie się lepiej, weselej a jednocześnie w klimacie pory roku.
Płaszcz / Coat – MANGO
Sweter / Sweater – VILA
Spódnica / Skirt – ONLY
Czapka / Cap – BARTS
Botki / Booties – ANSWEAR
Róż do policzków / Cheek blush – NAKED – Urban Decay
Pomadka do ust / Lipstic – KAT VON D
Made by Gocha
Zobacz również / See also:
Karnawałowy Makijaż W Kolorze Dyni Wg Sazan / Carnival Pumpkin Make Up By Sazan
Szarości Na Jesień / Autumn Grey Look
Jak Nosić Płaszcz Na Luzie? / How To Wear A Coat In Casual Style?